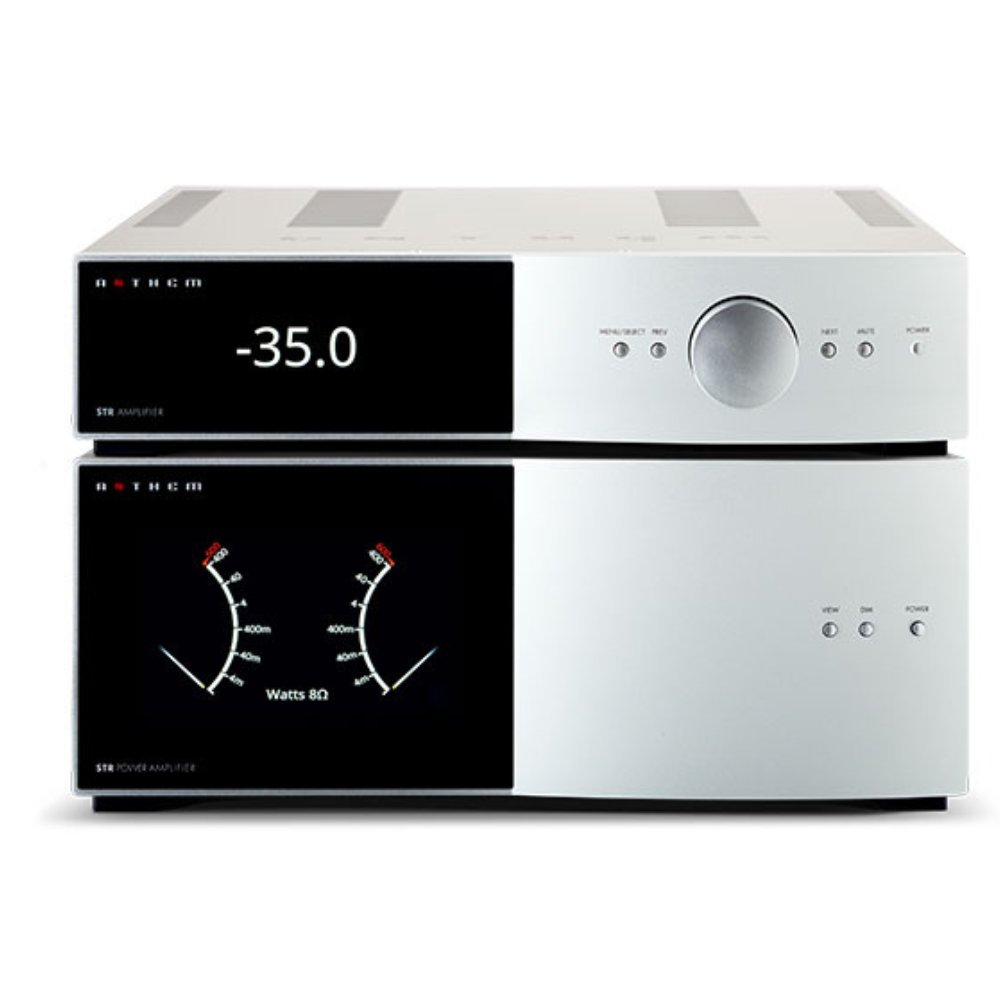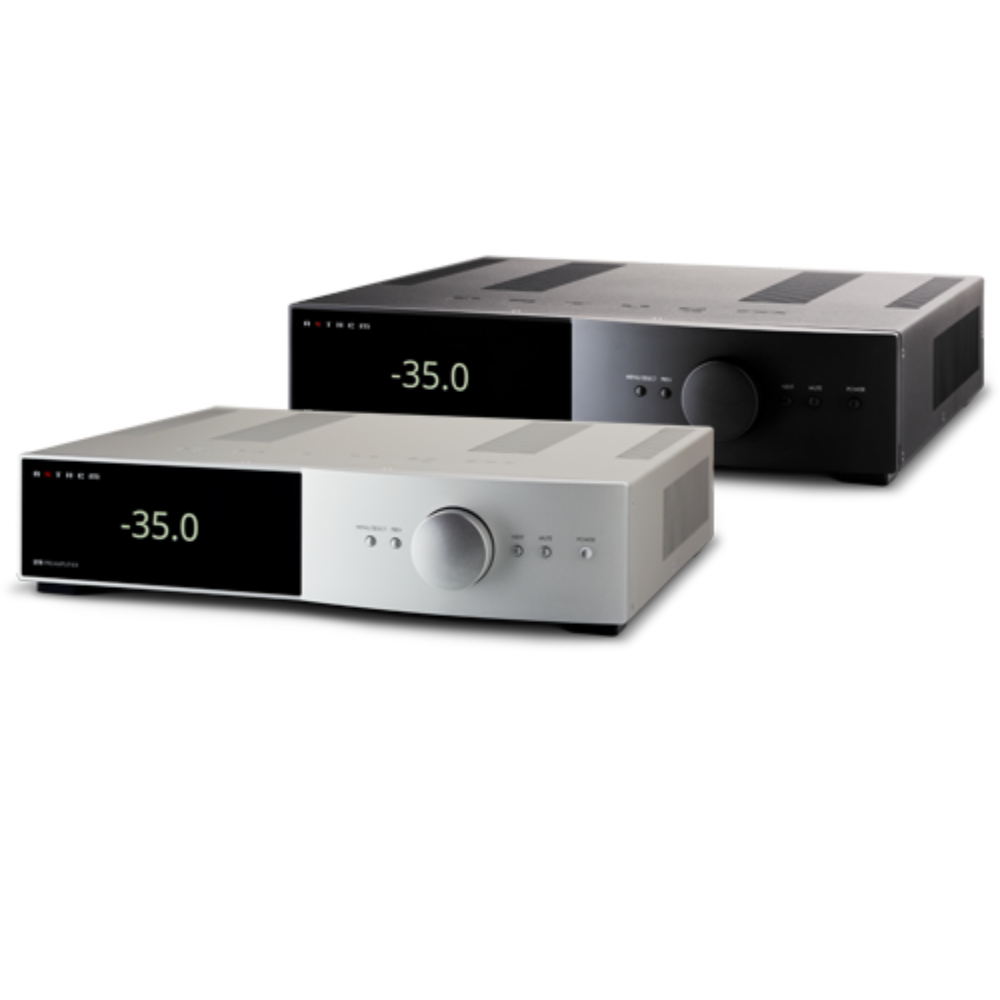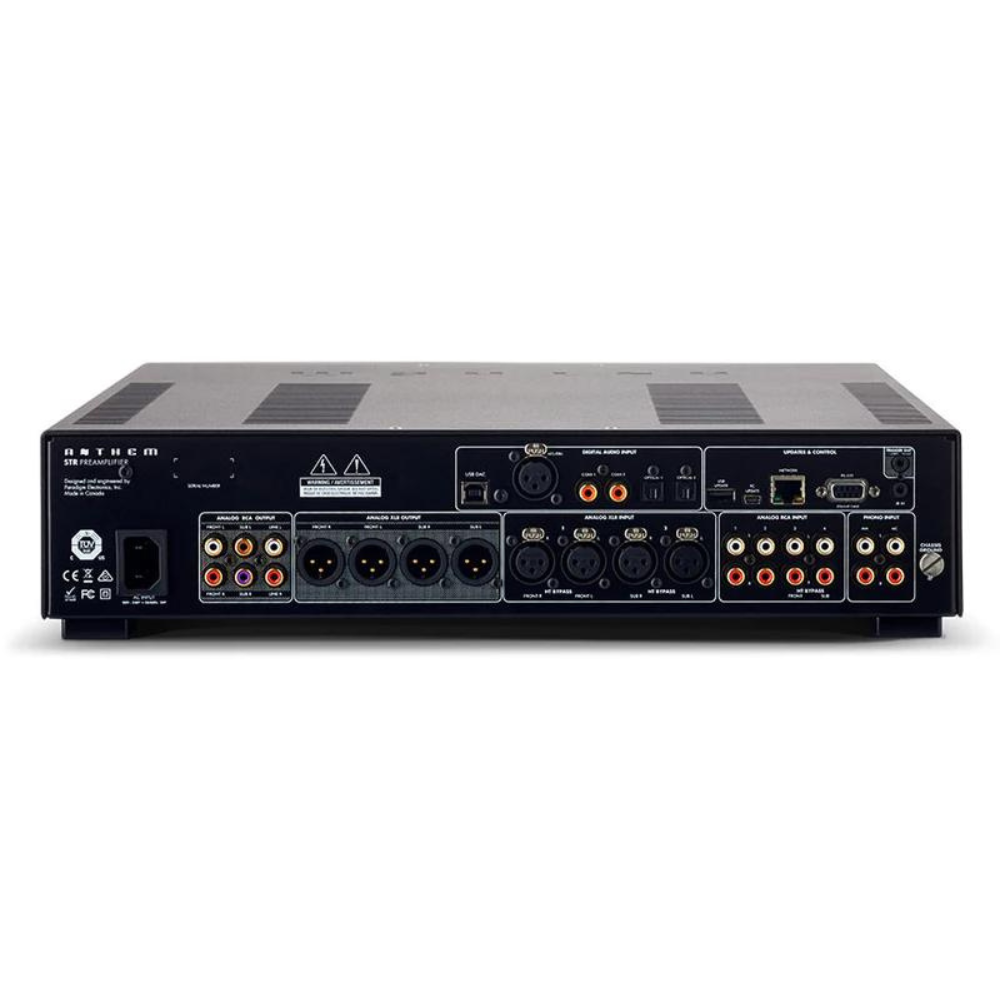 Anthem STR Preamplifier
---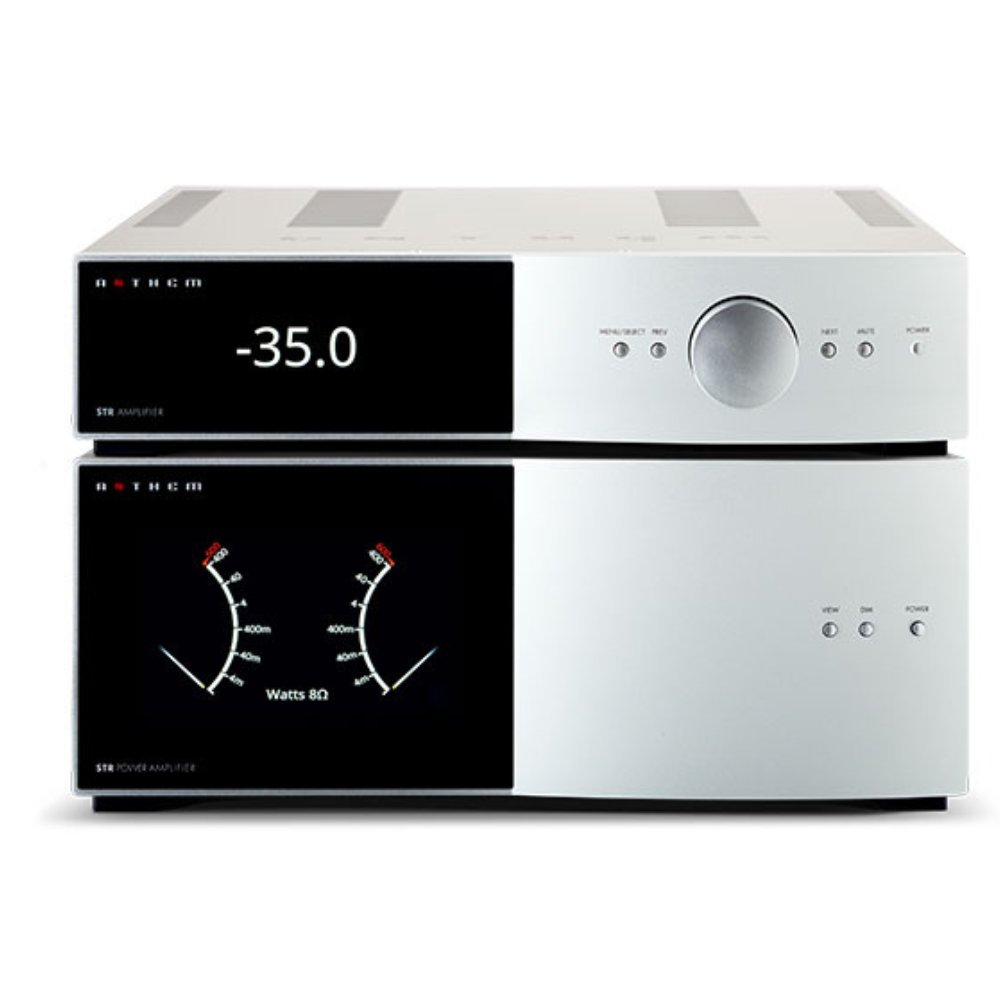 STR Preamplifier
Push the Power of Audio Control.
The revolutionary STR Preamplifier is a new type of audio component that gives you more control and more refinements, including more connection options and more advanced technology, in a single, easy-to-use component.
Designed, engineered, and Crafted in Canada, the STR Preamplifier combines the benefits of an advanced preamp with the power of a processor, as well as functions like leading-edge DAC, onboard Anthem Room Correction (ARC®®), customizable bass manager for mono or stereo sub outs, MM and MC phono inputs—far more than the average preamplifier.
And it includes new generations of many of Anthem's award-winning, audiophile-loving, review-praised digital signal processing innovations, delivering a noticeably higher level of audio performance realism.
The new STR Preamplifier drives all of your entertainment options today, and tomorrow.
Impedance
100 Ω (MC), 47 kΩ || 270 pF (MM)
RIAA Response (20 Hz to 20 kHz)
Gain (1 kHz, volume set to 0 dB)
DSP Mode
Maximum Input(at 1 kHz for < 0,01% THD 20 Hz - 20 kHz)3.6 mV (MC), 38 mV (MM)
THD+N(at 1 kHz 20 Hz - 20 kHz BW, 2 Vrms output)< 0.02% (MC), < 0.003% (MM)
THD(at 1 kHz 20 Hz - 20 kHz BW, 2 Vrms output)0.002% (MC), < 0.0015% (MM)
SNR(IEC-A, 2 Vrms output)84 dB (MC), 102 dB (MM)
Direct Mode
Maximum Input Direct Mode(at 1 kHz for < 0,01% THD 20 Hz - 20 kHz)11.8 mV (MC), 129 mV (MM)
THD+N(at 1 kHz 20 Hz - 20 kHz BW, 2 Vrms output)< 0.008% (MC), < 0.003% (MM)
THD(at 1 kHz 20 Hz - 20 kHz BW, 2 Vrms output)0.002% (MC), < 0.0015% (MM)
SNR(IEC-A, 2 Vrms output)92 dB (MC), 110 dB (MM)
Frequency Response
digital-in, 192 kHz10 Hz - 50 kHz (+0.00, -0.50 dB)
digital-in, 96 kHz10 Hz - 45 kHz (+0.00, -0.50 dB)
digital-in, 44.1 kHz10 Hz - 20 kHz (+0.00)analog-in, DSP mode10 Hz - 40 kHz (+0.02, -0.20 dB)
analog-in, direct mode10 Hz - 80 kHz (+0.00, -0.10 dB)
THD+N (at 1 kHz, 20 Hz - 20 kHz BW, 2 Vrms output)
DSP Mode0.001% Digital in, 0.0016% Analog in
Analog Direct Mode0.0016%
SNR (at 1 kHz, IEC-A, 2 Vrms output)
DSP Mode113 dB (digital-in), 108 dB (analog-in)
Analog Direct Mode120 dB
Maximum Output ( <0.1% THD )
RCA connectors (direct and DSP modes)3.3 Vrms
XLR connectors (direct and DSP modes)6.6 Vrms
XLR Configuration
Pin 1: Ground, Pin 2: Normal, Pin 3: Inverted
POWER REQUIREMENT
This product operates from a single phase AC power source that supplies between 90V and 264V at a frequency of 50 or 60 Hz.
Standby
0.38 W (120V), 0.45 W (240V)
Standby + Network
1.1 W (120V), 1.2 W (240V)
Depth (not including power cord)

High-resolution preamplifier section
Anthem Room Correction (ARC®) optimizes in-room response for perfect sound
Bass management for two subwoofers, in mono or stereo
Up-sampling of lower-resolution sources to 32-bit/192kHz
Asynchronous USB Audio Input supports 32-bit/384kHz PCM, and DSD 2.8 / 5.6 MHz sources
Coaxial, optical, and AES/EBU inputs up to 192kHz
MM and MC phono, balanced XLR, and single-ended analog inputs
Six pre-RIAA curves plus adjustable settings for playing older records accurately
Analog Direct mode
Adjustable analog input levels to match sources, minimize noise and prevent distortion
Graphic front panel display for easy setup and navigation
Balanced output for all channels including the two subs
Home Theater Bypass Mode works without having to turn power on and includes RCA/XLR input for two subs
Create up to 30 virtual inputs for setup flexibility
Controllable via Ethernet, RS-232, or supplied IR remote
Available in Silver and Black Finishes
Crafted in Canada


Conversion from Digital to Analog

STR Preamplifier includes a high-resolution preamplifier and a digital section, with support for asynchronous USB up to 32-bit/384 kHz PCM and DSD 2.8/5.6 MHz sources. This high-quality USB audio input transforms digitally stored audio from your Windows or Mac computer into warm, natural analog sound.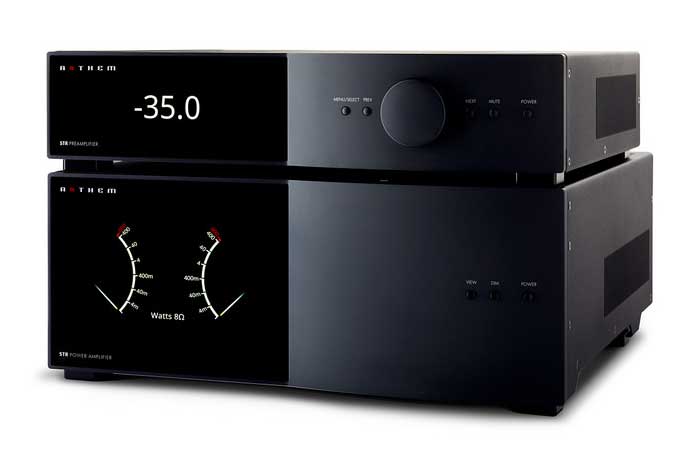 Two-Channel Nirvana.
Anthem Exclusive Innovations
The STR Preamplifier includes the newest and most powerful generation of Anthem Room Correction (ARC®), with 50% more processing power than any other version of ARC®. This proprietary calibration tool, with its easy-to-use interface, automatically shapes the acoustic signature of your speakers for the best possible sound quality in your unique listening space.
This is especially important for the lower frequencies.
Other innovations include a high- resolution preamplifier and digital section, which supports asynchronous USB up to 32-bit/384 kHz PCM and DSD 2.8/5.6 MHz sources, and uses signal processing that employs 64-bit accumulation and feedback to preserve the finest detail in the music and to avoid degradation. The digital to analog conversion section was designed to faithfully duplicate all the sounds in the original source.
To help achieve that effect for all input resolutions, a dedicated asynchronous 32-bit / 192 kHz sample rate conversion is used. This way, the DAC stage's anti- imaging filter is optimized for this sampling rate alone, resulting in an audio frequency range that's unmatched in purity, regardless of input format. In the process, the data gets reclocked, providing immunity from performance-marring source jitter.
Through the rest of the DAC circuitry, thin film high precision resistors and super low noise op-amps are used for lowest distortion, lowest noise, and most transparent sound. Other DAC units may boast about the performance of the DAC chip all by itself, but we view DAC stage design as a whole — there are no crippling bottlenecks anywhere in the DAC stage of the STR Preamplifier.
Aside from its cutting-edge technology, one look tells you that the STR Preamplifier is a different animal altogether. The display on the front panel gives you surprisingly easy control through an easy to navigate setup menu, and the luxurious and elegant new contemporary design is available in two beautiful finishes, Black or Silver.
More Subwoofer Options
The STR Preamplifier gives you more options for subwoofer configuration. Use one subwoofer or two for both channels, or two independent right-and-left channel-specific subwoofers. The bass management in conjunction with ARC® is uniquely engineered for seamless subwoofer blending, achieving incredibly accurate and lifelike performance.
Moving Coil and Moving Magnet Phono
Anthem has also taken into consideration the resurgent popularity of vinyl records, and has included separate inputs for moving magnet and moving coil cartridges, with the phono section completely shielded to maintain a clean signal. The transparency and refinement of the STR Preamplifier reveals the hidden magic of classic media.
In addition, the phono curve is continuously adjustable for proper playback of any record that predates the RIAA equalization standard.

Home Theater Bypass
The concept of combining a stereo preamplifier with a home theater system is taken to a whole new level. The STR Preamplifier supports two subwoofer channels in addition to the two fronts. XLR as well as RCA connection is provided for all channels, and HT Bypass mode engages while the preamp is on standby. This way, you don't have to turn it on when watching movies. To allow the purest signal path, relays are employed to hard-wire the input jacks to the outputs — the STR Preamplifier essentially becomes a straight wire.
Premium Components
Clarity is maintained using carefully selected components, many of them engineered exclusively in-house at Anthem. We believe that two-channel listening demands attention to detail, with flawless signal integrity being the benchmark of stereo performance. To that ultimate end, the Anthem STR Preamplifier is designed with the shortest possible signal paths, and differential analog to digital circuitry to cancel artifacts and keep noise to a minimum.
The Crafted in Canada Difference
The STR Preamplifier is designed, engineered and manufactured in Canada and is part of premium STR Series by Anthem, the leader in audio power and control.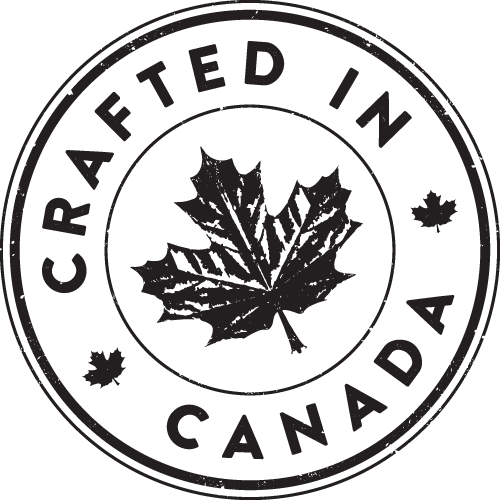 A True Scientific Solution to the Problems of Your Room
What is ARC® ?
Anthem Room Correction (ARC®) is a proprietary digital signal processing system that allows you to quickly and accurately optimize the performance of your audio equipment to better suit the unique parameters of your room. By listening to your room's acoustic signature, ARC® can tune your equipment to correct for the performance-robbing effects (reflections, resonances, standing waves, etc.) of the various surfaces and other obstacles in your room. You'll actually hear the difference ARC® makes.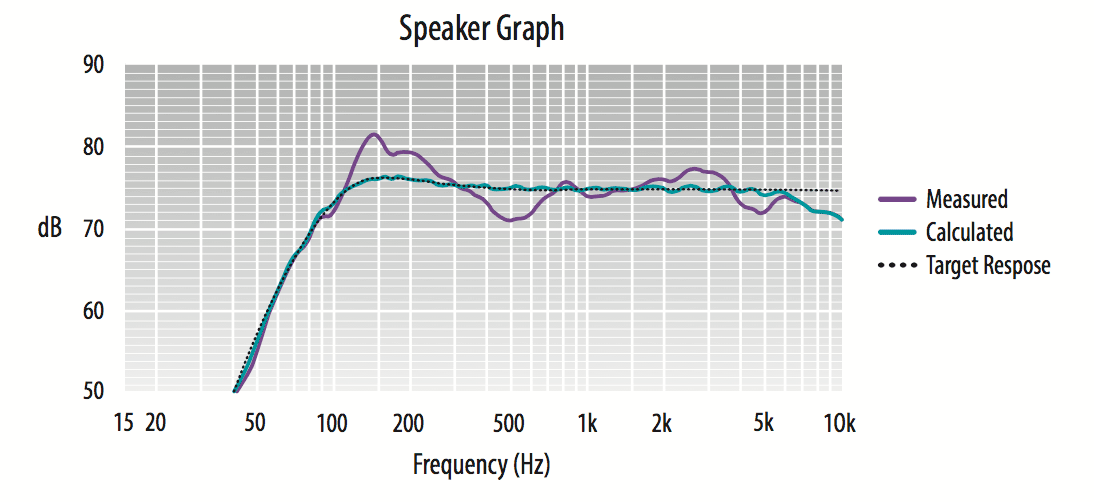 How does ARC® work?
ARC® digitally compares a room's acoustic signature to that of the lab standard. It measures the response of each speaker relative to the listening area. Then it uses advanced algorithms to eliminate the negative effects of the obstacles in the room, adjusting response and correcting phase effects. When ARC® removes the obstacles, what's left is the lab standard performance.
ARC® is easy to use, and just a few simple steps can optimize your speakers for your unique listening space. ARC® is sophisticated, one of the most accurate and detailed digital room correction technologies available today. ARC® will work tomorrow, too; with constant advances and updates available for download on the Anthem website.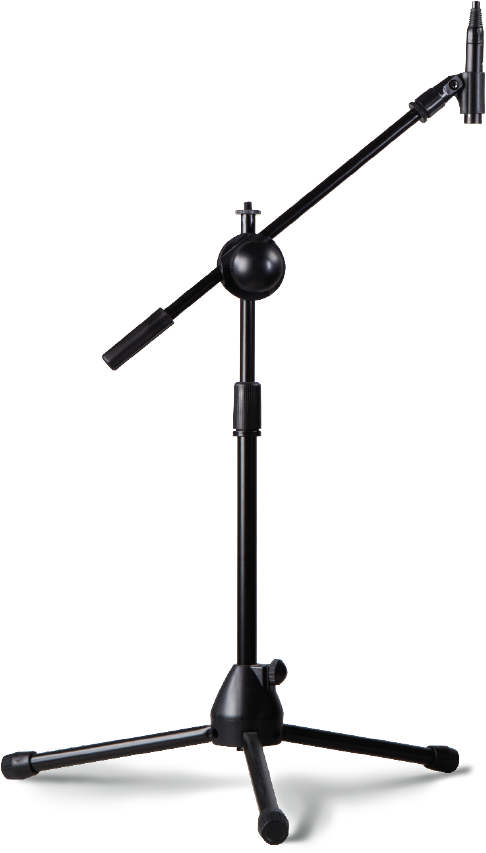 How do you use ARC® ?
Now there are THREE ways to calibrate your system using ARC® or ARC® Mobile—each takes only a few minutes to complete.
EASY
Requirements: iOS device + ARC® Mobile App
Download Anthem's ARC® Mobile app to your iOS device. This method uses your iOS device's built-in microphone for measurements.
INTERMEDIATE
Requirements: iOS device + ARC® Mobile App + ARC® Universal Microphone
Download Anthem's ARC® Mobile app to an iOS device. Run the ARC® app and select "ARC® Universal Microphone," connect the supplied 3.5 mm cord from your iOS device to the ARC® Universal Microphone for measurements.
PROFESSIONAL
Requirements: Windows PC + ARC® PC Software + ARC® PC or Universal Microphone
Download and install Anthem's ARC® software to your Windows PC. Connect either the calibrated ARC® PC Microphone or ARC® Universal Microphone to your Windows PC, and connect your ARC®-capable speaker or electronics with either the second USB cord or through a network connection. After running your measurements, you can customize the results, set up multiple configurations, and print correction curve graphs