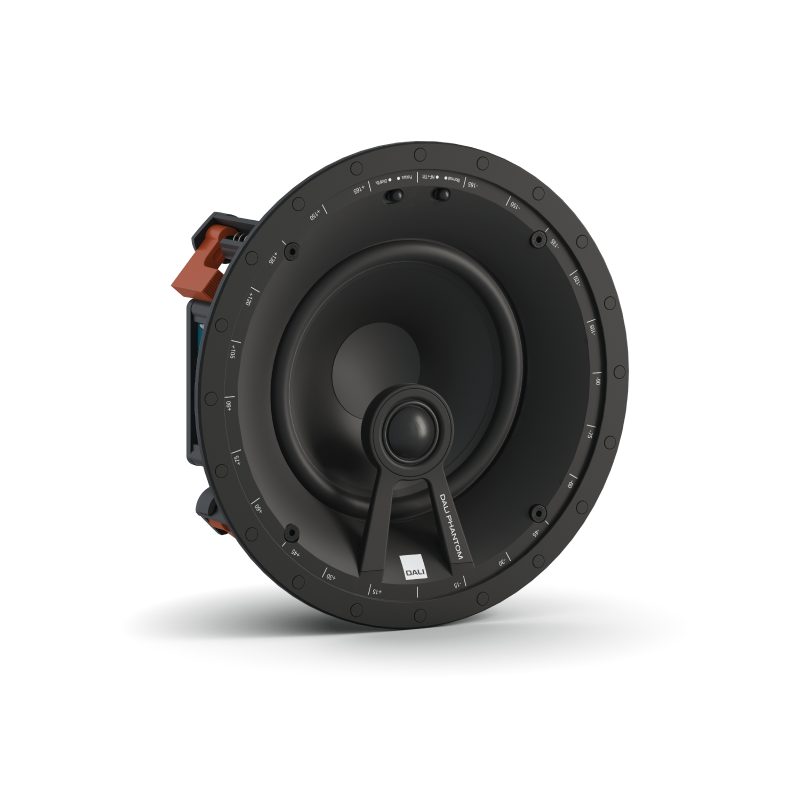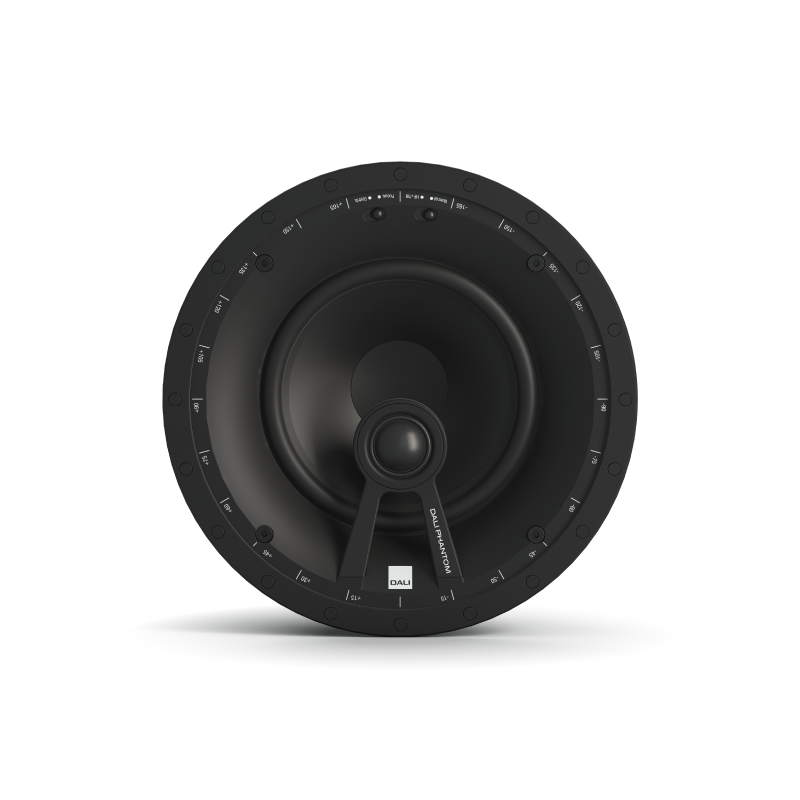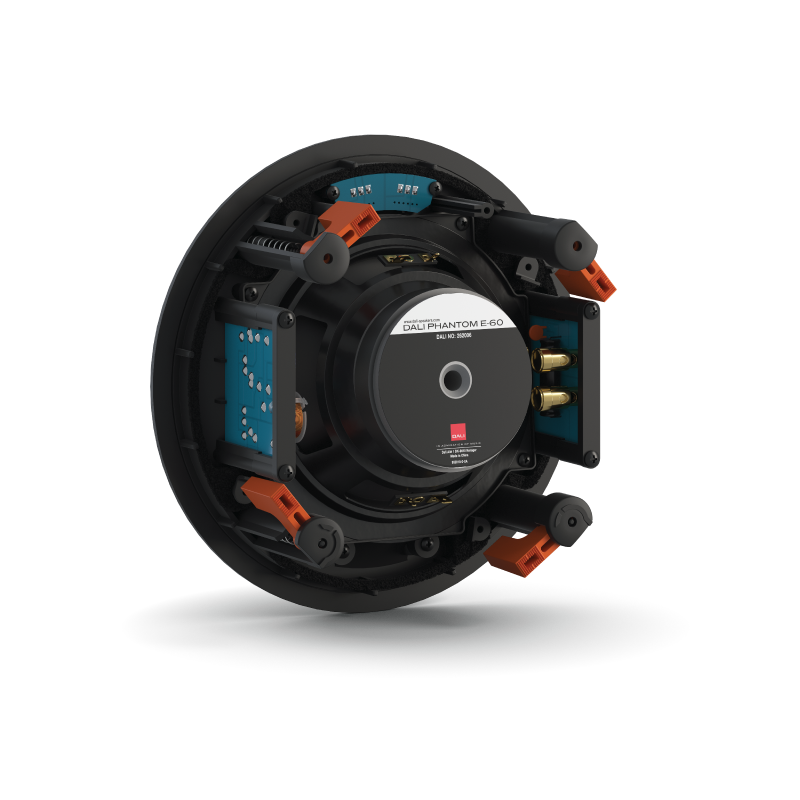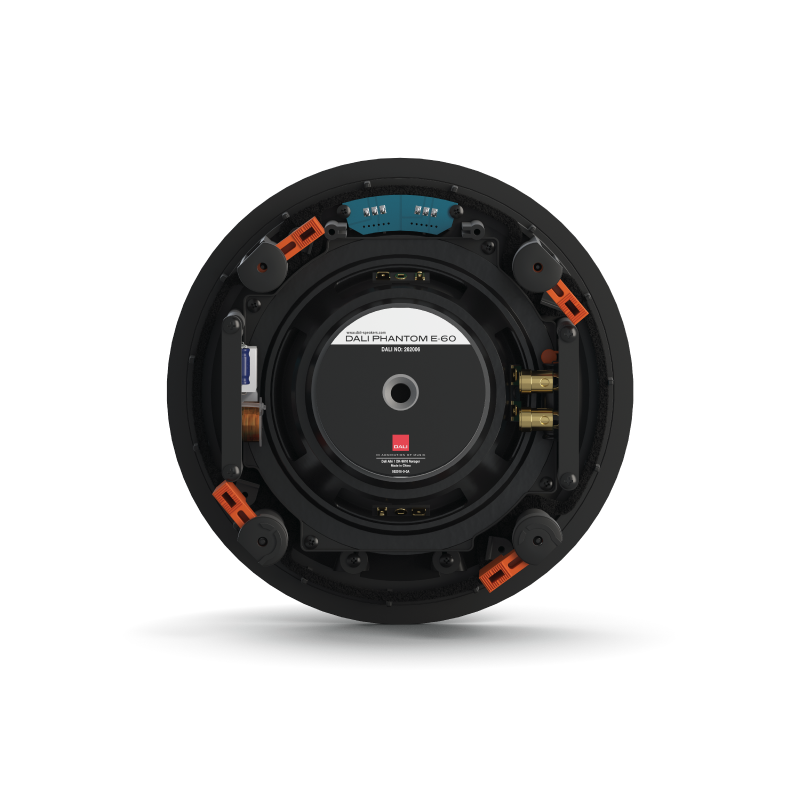 Dali Phantom E-60
---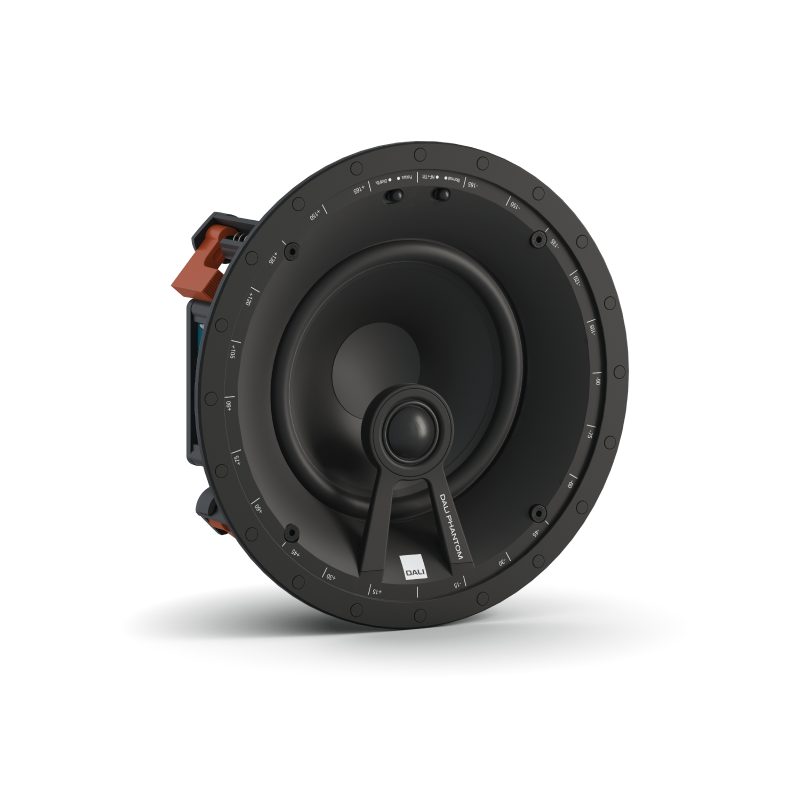 PHANTOM E-60
The DALI PHANTOM E-60 is a great performing all-round in-ceiling speaker. It's big enough to deliver a complete audio experience and small enough to install discreetly into any room. The PHANTOM E-60 performs equally well as an in-wall speaker.
Frequency Range [+/- 3] dB [Hz]
Sensitivity [2.83V/1m] [dB]
Crossover Frequencies [Hz]
Recommended Amp. Power [Watts]
Low Frequency/Midrange Driver(s)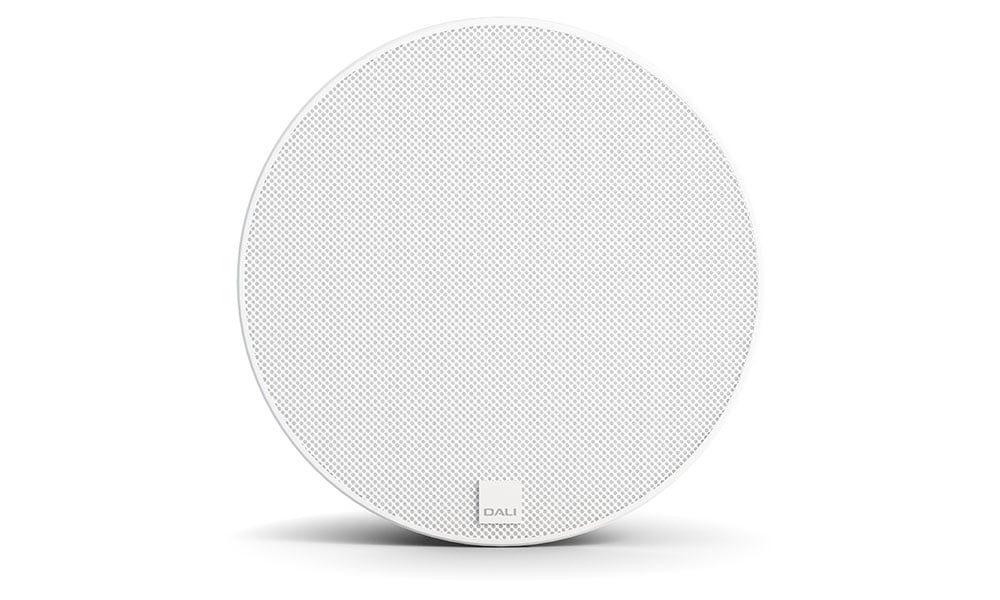 A FLEXIBLE ALL-ROUNDER
A great height, side or rear speaker
The PHANTOM E-60 is the perfect all-round loudspeaker. Its compact size makes it easy to install and fine-tune using the compass positioning system, but it's still big enough to deliver a complete audio experience. Pair it for a stereo setup in a kitchen or family room or use it as a side or rear loudspeaker in a home cinema setup in a larger room. The PHANTOM E-60 is designed for in-ceiling use but can also be installed in-wall.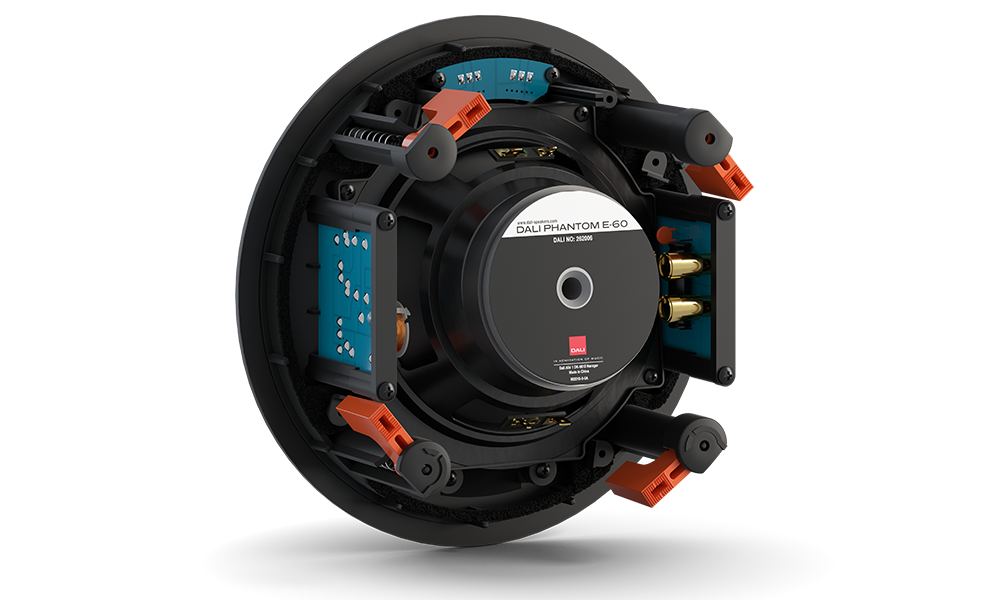 DESIGN DETAILS
Every detail thought through
Thick edges around the PHANTOM E-60 baffle offers tight and secure mounting and improves the overall strength and rigidity of the speaker, while the dogleg mounting system makes installation a simple one-step action. At the front, the stylish and discreet grille design helps the PHANTOM E-60 integrate perfectly into any room.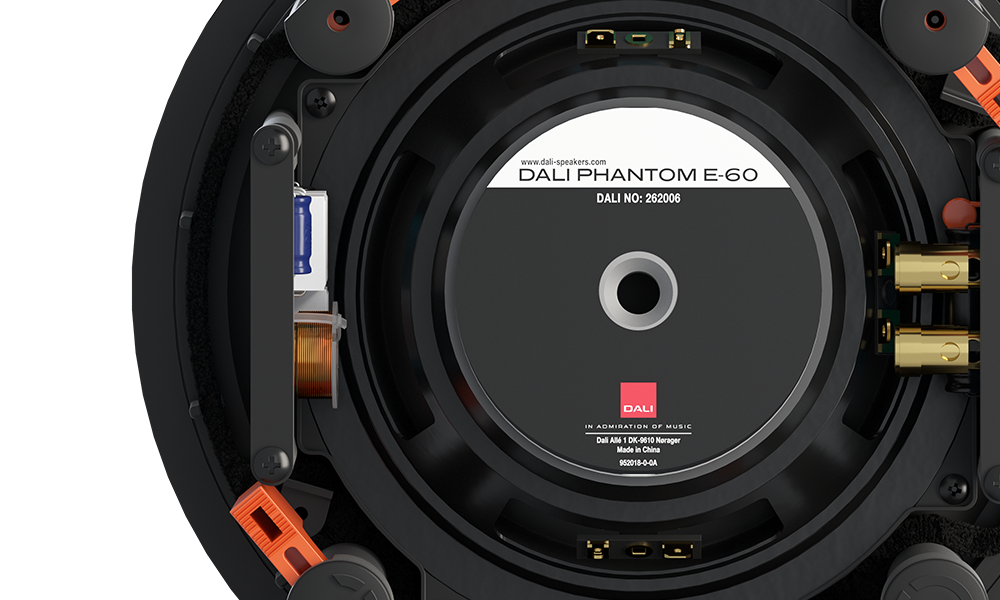 HIGH QUALITY CROSSOVER
Made from audiophile components
Designed specifically for the PHANTOM E-60, the crossover components have been chosen for their audiophile quality. All internal wiring is optimised for the speaker design and is secured to eliminate the possibility of rattling. The speaker terminals are also located on the crossover for the shortest possible signal path, while spring-loaded grips ensure a solid and long-lasting connection to the speaker cable.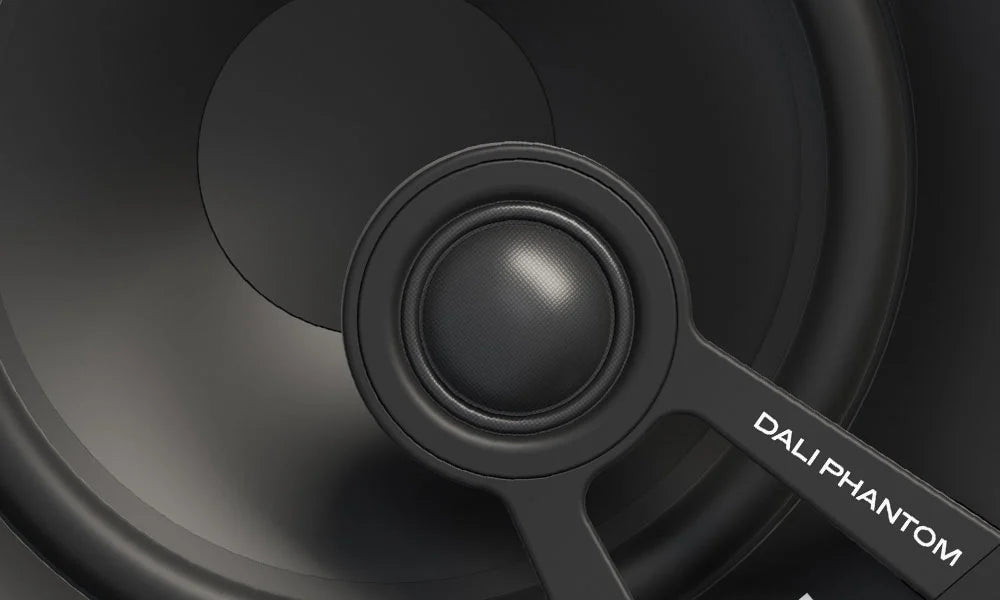 TWEETER PLACEMENT
Creating natural high frequencies
The 25 mm soft dome tweeter module in the PHANTOM E-60 is fixed over the woofer in a composite housing mounted on an aeroplane-wing profile wishbone bracket. As well as reducing the size of the speaker, the wing design and off-centre placement of the tweeter help eliminate sound colouration normally associated with coaxial drivers. The tweeter's positioning also helps the midrange and low frequencies blend gracefully with the high frequencies for a precise and natural overall performance, even at higher volumes.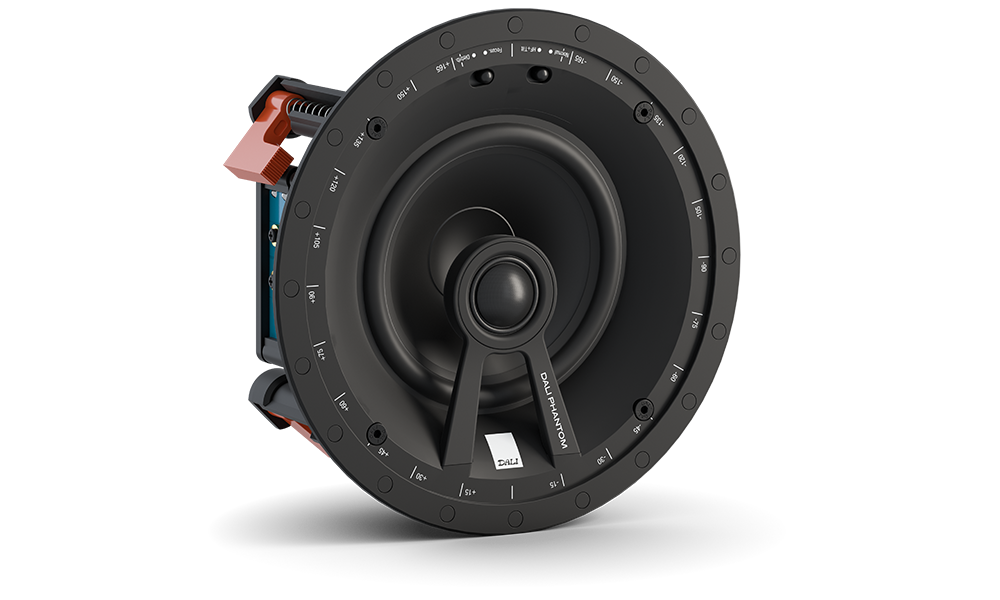 POLYPROPYLENE WOOFER
Designed with our low loss principles in mind
To ensure the best balance between durability and great audio reproduction, the 6½" woofer features a polypropylene cone that's tilted and angled to improve directionality and soundstaging. Every part of the woofer has been designed according to our low loss principles, so even smaller amplifiers can combine with the PHANTOM E-60 to deliver a high-quality audio experience.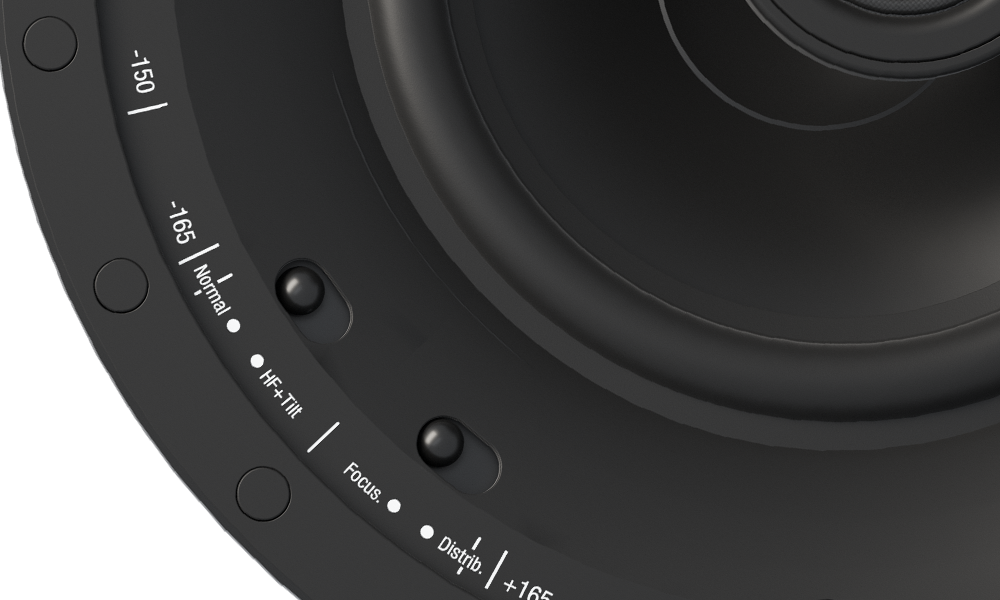 WIDE DISPERSION
Easy integration in any room
All DALI speakers are designed around the principle of wide dispersion, which optimises off-axis listening to give a larger sweet spot and a better audio experience throughout a room. This principle is the perfect solution for PHANTOM series speakers, which are mounted flush with the surface of a wall or ceiling. The PHANTOM E-60 also has two slide switches for fine-tuning off-axis performance.