Dali SUB E-9 F
The DALI SUB E-9 F subwoofer redefines what's possible at this price level. Featuring a 9" woofer made from pure aluminium, the SUB E-9 F can move lots of air with power and precision to deliver a highly dynamic performance in a stylish cabinet.
Frequency Range [+/- 3] dB [Hz]
37 - 200
Crossover Frequencies [Hz]
40 - 120
Low Frequency Driver
1 x 9" long stroke
Connection Input
RCA, stereo (low-pass filtered), LFE (mono)
Max. Amplifier Power Output [RMS Watts]
220
Continous IEC Power Output [RMS Watts]
170
Max. Power Consumption [Watts]
250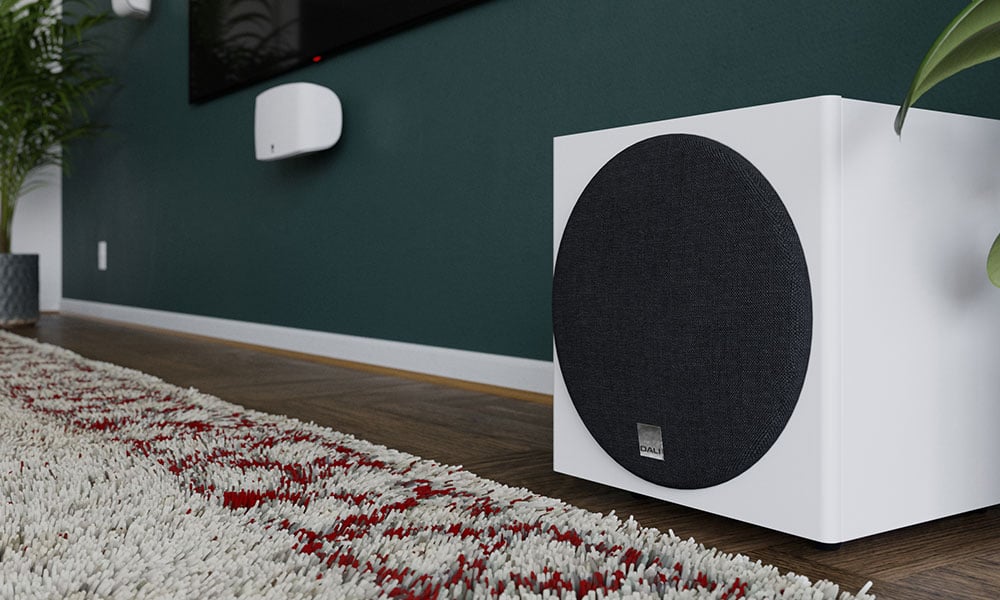 PERFECT PLACEMENT
Maximising bass output and distribution around the room
Placing a subwoofer is a large part of creating the perfect audio reproduction. To maximise bass output and distribution around the room, we recommend placing the SUB E-9 F in a corner or, if that's not possible, along a wall. The relatively compact size of the subwoofer makes for flexible placement, compared with larger subwoofers, and is a great match for our OBERON, FAZON and SPEKTOR series speakers.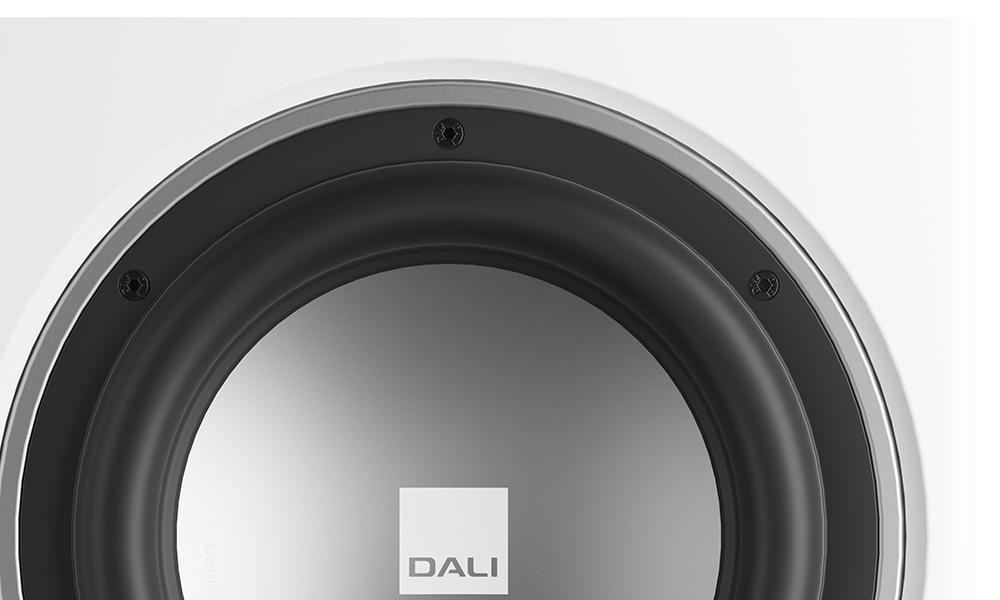 9" ALUMINIUM WOOFER
Keeping distortion to an absolute minimum
The SUB E-9 F incorporates a 9" aluminium cone woofer that's stiff, lightweight and delivers a better transient response than you might expect for a subwoofer in this category. The ability to start and stop quickly is at the heart of our loudspeaker design philosophy, and it lets the SUB E-9 F integrate easily with the front speakers. Also, the construction of the SUB E-9 F cone avoids the need for a dust cap, which ensures piston-like movement and keeps distortion to an absolute minimum.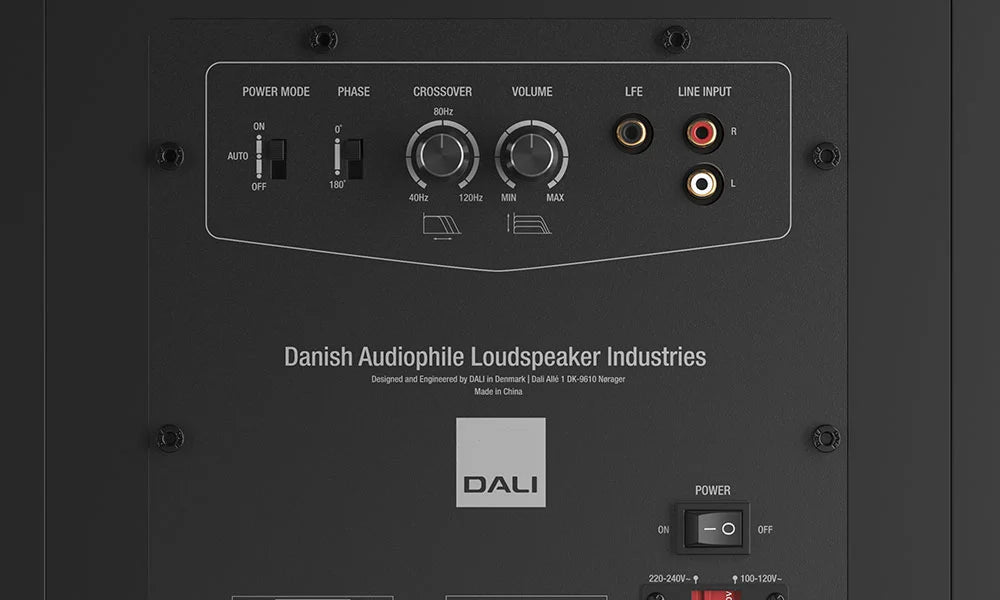 CLASS D AMPLIFIER
Rendering audio with absolute integrity
The integrated 170 Watt RMS Class D amplifier is highly linear and renders audio with absolute integrity. Designed for maximum continuous power, the SUB E-9 F also delivers 220 Peak Watts to handle more demanding movie soundtracks and music.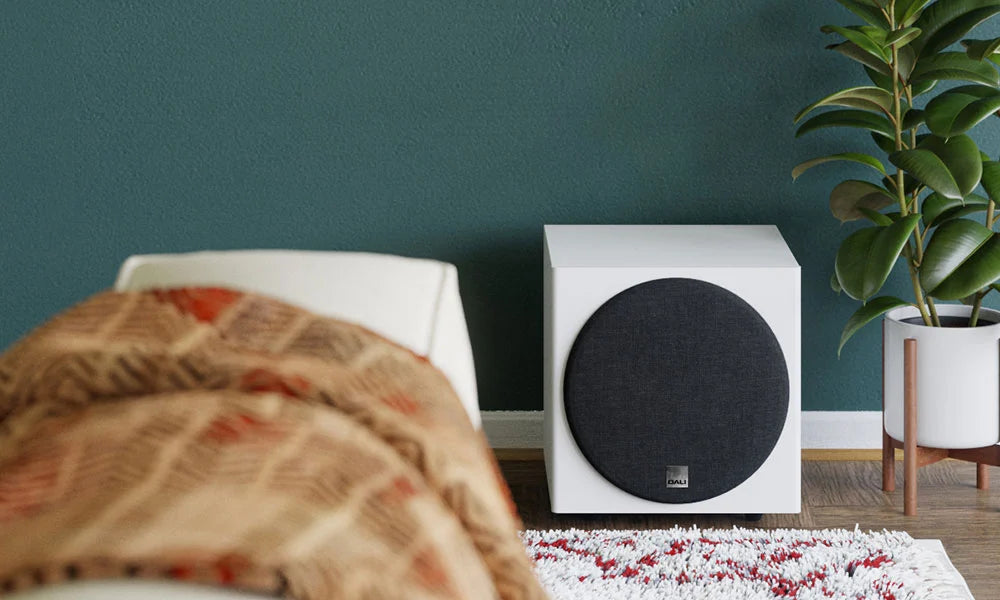 CABINET DESIGN
Designed and manufactured to meet exacting DALI standards
The solid MDF cabinet is designed and manufactured to meet our exacting standards. With a choice of enclosures in Black Ash or White finish, and an updated front baffle in matt satin finish, each cabinet blends in perfectly with most speaker designs and room decors. To eliminate potential turbulence underneath the subwoofer, four oversized, polymer-based spikes raise the cabinet by 30 mm, effectively decoupling it from the floor. Raising it off the floor also ensures higher efficiency and more freedom when it comes to placing the subwoofer.